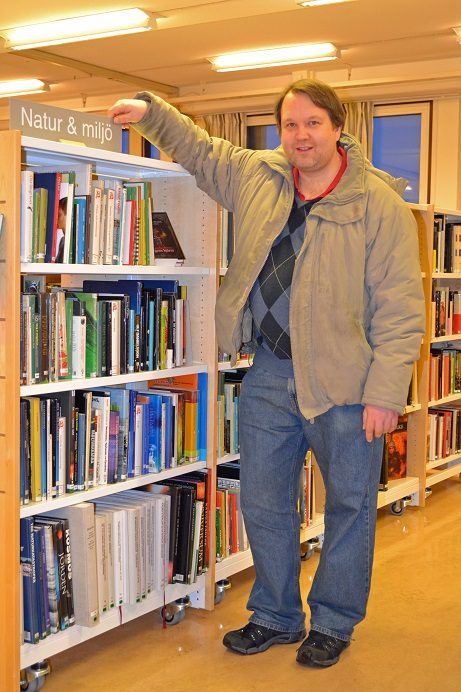 Background related to research:

2 years Electricity and Electronics - 1982-84

34 weeks Control and Sensor Technology - 1986

Positive side: is able to think outside the box. My brain receives flashlights illuminations when I think of a problem.

Negative side: Not all ideas I have works.

Current Situation: Living on disability pension for the rest of my life. Suffer from Paranoid Schizophrenia. On medication. Injection every second week - 150mg/0.75ml Cisordinol. 4mg Cisordinol, 20 mg Zyprexa, before going to sleep. 2mg Cisordinol at lunchtime to dampening my symptoms. Zyprexa has made me fat, because of sugar addict. I now weight 110 kg. Because of medicine I sleep 12 hours night and are awake 12 hours day.

I am happy, dispite my problems. My problems hearing voices that was not commanding, but commenting voices begun in 1996. Now I do not hear the voices much, but instead I am telepatic and receives flashlight illumination. I can think of a problem and know the solution at once.

I have researched a Bob Teal Magnipulsion 5 volt pulsed electromagnet and after some practical tests. I have come to the conclusion that the hysteresis losses are too big and the inductive spike that can power lights is too small. The effectivity is always less than 100%. However, if the electromagnet is superconducted the effectivity might exceed 100%. You can see my experiment here. The red diode to the left is on when the energy is recovered . The red diode in the middle is on when the electromagnet is OFF and the green diode is on when the electromagnet is ON. The video has no sound and plays 8 times slower than normal.



Hi, everyone!

I have been thinking of how Clemente FIGUERA, et al. Infinite Energy Machine might have looked like in real life, as it is obvious that it does not work according to the patents drawings. So I have come up with a mix of Lawrence Tseung's magnetic frame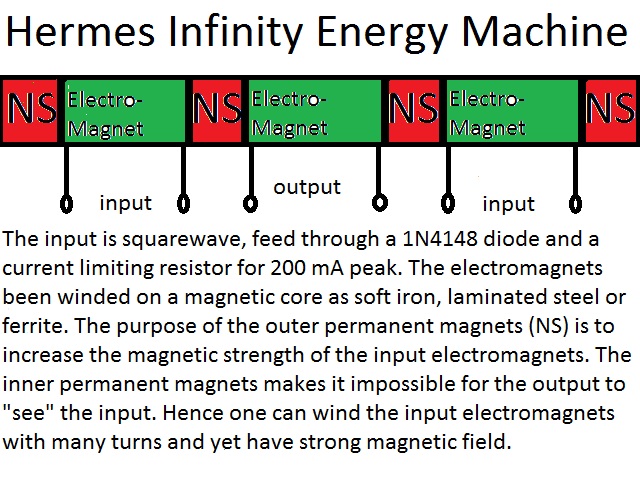 I have not built it myself. First, I want to have your opinion. Will it work? You will find its research status at this page: http://gratisenergi.se/research.htm



For your Infinite Energy Machine you should be aware that an induced current in the second coil depends solely on the change of magnetic flux, and so any static flux you add by using permanent magnets won't change things at all. What you'll end up with is a somewhat inefficient transformer. The output will be spiky since it's the differential of the input square-wave, and thus is likely to be mis-measured by a normal meter. Although the meters may thus show a gain, that's not real and if you put the current through a resistor and measured the heat produced you'd prove it was lossy rather than gainful.

If you really want to know how to get a continuous supply of work output, then you should read http://revolution-green.com/some-energy-basics/#comment-2376328811 (and the article and other comments) and spend a while thinking about it. As far as we can tell we can't make or destroy energy itself - there is a fixed supply of it set at the creation of the universe and changing the quantity would affect every other particle in the universe. That is such a large barrier to overcome that we might as well accept it can't be done. We don't really want energy, though; we want work to be done and for that we need a movement of the energy we already have from one place to another. What we are looking for is a way of either harnessing some natural energy-flow to produce work or to fix things so that energy loops itself and gives us a continuous supply of work.

The trick of getting a continuous loop of energy won't work using magnets and coils. They will transfer energy around but won't loop it - you'll need to put work in going one way and you get it out going the other, with a net result of zero work done in ideal conditions. To get that loop you need to either use some quantum mechanics tricks or some chemical tricks in order to get that energy naturally moving the way you need it to. As far as I can tell you can't do it with random collections of particles such as a gas or liquid unless you can add in an equivalent of a diode to skew the probabilities away from the normal. It's worth looking at what Dan Sheehan has been doing to get an idea of one way of actually making this work. I've covered a few others that actually work (at a very low level) on R-G over the last few years.

Bottom line, though, is that using human-scale structures won't work, and that you need to consider molecular scale in order to find a system that will actually perform. The Second Law of Thermodynamic (2LoT) will apply to any large collection of random particles, and all human-scale devices will have enough particles for 2LoT to apply unless you use nanoscale structuring of it - you need to consider individual collisions/interactions and skew them rather than using a large number at once and trying to skew them as a group.

When you look at all the work that has gone into various forms of Free Energy, if the principles worked then it's pretty certain that someone would have had something work. Yes, there have been claims but somehow those working devices always got lost or destroyed, and replications just didn't work either. The most likely reason is that the principles are wrong. The article on R-G is the analysis of why those principles fail, but more importantly puts forward a principle that will work based on observations and their logical consequences. The really big point there is that we have defined energy-flows even when a system is in thermal equilibrium. If we have a flow of energy, we can extract work from it. It's that simple, in principle at least. In practice it is of course more difficult since it does need engineering at the micron level.

Best regards, Simon Derricutt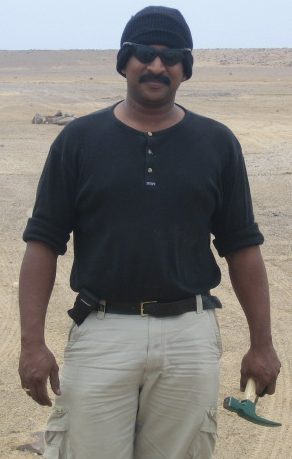 Vasudev Ramakrishnan is researching the Hydroxy Unit for automobiles



Expenses April 2014: 48 Ferrite Rods 100*10mm including shipping and handling: 103 US Dollar.

Expenses May 2014: 3 Ferrite Rods 100*10mm, 1 Ferrite Rod 160*10mm, 2 Ferrite Rods 180*10mm, 1 Ferrite Rod 195*10mm including shipping and handling: 30 US Dollar.

Expenses June 2014: 96 small low frequency transformers including shipping and handling: 62 US Dollar.

Expenses July 2014: 36 high frequency transformers including shipping and handling: 54 US Dollar.

Expenses September 2014: 5 rechargeable batteries 6 volts/225maH, 15 10000uf/35 volts capitors including shipping and handling: 40 US Dollar.

Expenses June 2015: 10 5 volts mini relays, 10 12 volts mini relays including shipping and handling: 15 US Dollar.


Thank you for your donation. Everythings goes to research.




Hubbard Coil Updated 2016-November-07



Buck Converters

Clemente Figuera, et al. Infinite Energy Machine

The Adams Active Thermo Electric High Voltage Pulsed DC Permanent Magnet Switched Reluctance Electric Motor

and Bob Teal Magnipulsion

USP 4,093,880 Magnetically Operable Engine by Benjiman R. Teal

USP 3,992,132 Energy Conversation System by J. William Putt

USP 190,206 Electro Magnetic Motor by Wesley W. Gary

will be opensourced or patented if we can improve on existing schematics and make them true clean energy technologies.



Check out my Hermes Free Energy Links for updates of this page: Support the future - Support the clean energy researchers

back to linkpage
suggestion
read and sign my guestbook