Wisdom for the adept and the disciple



Iswarya Menon
---
---





Love and serve humanity
Praise every soul
If you cannot praise him, let him pass out of your life
Dare, dare and then- dare more
Do not imitate Be Original Be Inventive Be Yourself
Know yourself Stand on your own ground
Do not lean on borrowed staffs of others Think your own thoughts
There is no saint without a past
There is no sinner without a future
See God and Good in every face
All the perfections and virtues of the Deity are hidden in you Reveal them
The saviour also is in you Let his grace emancipate you
Be cheerful Be courteos Be a dynamo of irrepresible happiness
Assist everyone Let your life be like unto a rose; thought silent it speaks in the language of fragrance
You are a trinity of body, mind and soul
The food of the soul is Divine Love Therefore, feed your soul on Divine Love- so that the body and mind be invorgated
Be deaf and dumb concerning the fault of others
Do not listen to gossip Silence the talebeare with virtuos conversation
Stop the circulation of poisonous germs of religious fanaticism through your veins and arteries and those of your children Never argue with any soul concerning his religous belifs Religous controversies lead to hatred and seperation Religion is Love and Fellowship not teological dogmas and creeds
When you have Love and Sympathy in your heart for your fellowmen, you have the highest type of religion, no matter what by name you may call yourself
Rest assured that the emancipation of the world is through the Nameless God of Love and in the Nameless Religion of Love
Develop the qualities of essential Goodness Every soul is endowed with the attributes of intrinsic beauty Discover those attributes and hold them before the world
Religion is a personal relation between man and his maker
For God's sake, do not interfere with it, do not organize it, neither try to reduce it to so many statsments
Organisation, in whatever form, is the death-knell of religion Do not preach this Practice and teach it
Let no one dictate to you regarding what you should or what you should not believe and do in your spiritual life The ultimate authority is the Authority of the Spirit within you and not that of any man, dead or alive.
The Unerring Witness is standing in the centre of your being--all powerful mighty and supreme! His is the final testimony His is the court of last appeal
God's love is in you and for you Share it with others through association Do not court seperation from the creatures, but unity with them in love To know yourself through your fellowman is to know God
Have courage Realize your divine orgin You are the ray of the Sun of Immortal Bliss
You and the Father are one The deathless radiant self is you Reverence your Celistical station No harm will ever come to you God's perfect image and likness you are, abiding in the fort of his Protection
Association with all the people will lead to spiritual unfoldment and not to the deterioration of the soul
Live above the world of faith and infidelity; religion and atheism; orthodxy and liberlism; thruth and error; angel and devil; and you will be living with, and in God.... THE GOD OF ABSOLUTE GOOD, THE GOD OF ABSOLUTE BEAUTY, THE GOD OF ABSOLUTE PERFECTION
In religion there is no compulsion The path is to spiritual unfoldment is not by restrictions and constraints; not anathema and excommincation, but by constant progress from world to world, from star to star, from constellation to constellation, forever and without end
The Lights of light is in your heart Uncover it, and let it shine for the illumination of mankind Do not expect a favor from friend or foe, and you shall never be disappointed
Overcome malice, envy, personal spite and prejudice, and you are the master of Destiny
Do not condemn a single soul In condemning him you are condemning yourself Never for an instant forget that he is also the child of God
Upon the great sea of spirit, there is room for every sail In the limitless sky of thruth there is room for every wing
Do not murder the character of a soul, under the guise of religion, either by bitter blame or faint praise Spiritual murder is worse than the taking of a man's life
Have a sin-covering eye See only the beautiful, the lovely, the noble
Be gentle Be lenient Be forgiving Be generous Be merciful Be wakeful Be thoughtful Be frank Be positive Soar in the atmosphere of freedom
Walk in your chosen path and let no criticism disturb you in the lease This is the way to success to happiness to health to prosperithy to glory Let me walk in it during the days of my life


---


~ Become a Lake ~

An aging master grew tired of his apprentice's complaints. One morning, he sent him to get some salt. When the apprentice returned, the master told him to mix a handful of salt in a glass of water and then drink it.

"How does it taste?" the master asked.
"Bitter," said the apprentice.

The master chuckled and then asked the young man to take the same handful of salt and put it in the lake. The two walked in silence to the nearby lake and once the apprentice swirled his handful of salt in the water, the old man said, "Now drink from the lake."

As the water dripped down the young man's chin, the master asked, "How does it taste?"

"Fresh," remarked the apprentice.
"Do you taste the salt?" asked the master.

"No," said the young man. At this the master sat beside this serious young man, and explained softly:

"The pain of life is pure salt; no more, no less. The amount of pain in life remains exactly the same. However, the amount of bitterness we taste depends on the container we put the pain in. So when you are in pain, the only thing you can do is to enlarge your sense of things. Stop being a glass. Become a lake."

Tao&Zen



Franciskus av Assisi

"O Lord, make me an instrument of Thy Peace!
Where there is hatred, let me sow love;
Where there is injury, pardon;
Where there is discord, harmony;
Where there is doubt, faith;
Where there is despair, hope;
Where there is darkness, light, and
Where there is sorrow, joy.
Oh Divine Master, grant that I may not
so much seek to be consoled as to console;
to be understood as to understand; to be loved
as to love; for it is in giving that we receive;
It is in pardoning that we are pardoned;
and it is in dying that we are born to Eternal Life."

Remember everybody, we are great, mighty and powerful spiritual beings with dignity, direction and purpose - Dannion Brinkley

Kom ihåg att alla är vi stora, mäktiga och kraftfulla andliga varelser med värdighet, inriktning och syfte -Dannion Brinkley



"To be yourself in a world that is constantly trying to make you something else is the greatest accomplishment." - Ralph Waldo Emerson



"We must be willing to let go of the life we planned so as to have the life that is waiting for us." ." - Joseph Campbell
---
India's answer to Jesus?
Will he be even more advanced in the future?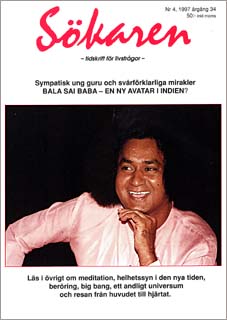 The Divine Love
In the Secret house
Has come out, into the desert
To flourish like never before

Hermes Atar Trismegistus



Saying of Hermes Atar Trismegistus:
A human is not flesh with its desire but a light with feelings

Mankinds true being is a light with divine love

In the late twentieth century and beyond 2000....
The allmighty, loving and judging Christian God is fighting his last loosing battle...
The gradual realization of the importance of founding divine love in the heart of
all mankind, destroys the belief in the dualminded Christian God and he vanish
into the pages of mankinds dark history....

Clothe yourself in the mantle of love and see everything clearly.

Within man lives the gem of reality.

There is divine life in everything. It is time for you to bath your eyes in divine love....

Beyond words is the voice of God.

Blessed are you who read this, I give you spiritual insight.

God is closer to you than any religion, philosophy or science.

The paradise is closer to you than you ever can believe.

Rise the dead, unto your level
and let those who are above rise you to their level
So, we all becomes Spiritual and Refreshed
-like God who live in heaven.

More Sayings of Hermes Atar Trismegistus:

If Jesus wants to set you free...then, who is the father of rituals?

When you realize the thruth - follow God instead of "The written words of God in the holy scripts" penned by man but claimed divine.

Inside yourself is God hiding with divine love, ready to waste his treasure - find him!

Hell is a nightmare, when you wake up from that illusion you will realize the origin of Hell comes from your own fear and from your focus upon wrong thoughts. The "precence" of the devil comes from an inharmonious life, focus upon wrong thoughts and feelings.

The brain is a reciever of ideas and a projector of thoughts.

Think Gods thoughts in the day and dream Gods dreams in the night.

If man would express an ideal instead of collecting things - he will soon become that ideal (like Dalai Lama). Then we must think -What is more important in life? Expressing an ideal or collecting things?

If a man follow Jesus, he will follow an ideal. But, if he worship Jesus instead of follow him, He is worshipping the idol and will never display the quality of Jesus.

Please, speak universal... Only that is true for all people, in all places at all times is the real truth.
What ignorant or unknowing people calls the truth is only the truth for them in their life and time.

Don't study holy scriptures that describes what is already inside of us, study what is real inside of you.

About the Beauty in Life:

Teenagers shows the beauty we all have and should inherent.

About Divine Love in your life:

Divine Love is real and you should center yourself to the holy vibration of youthful love.

Divine love gives beauty to your mind and later....also to your body....

Divine Love gives you a touch of genius..

Please, surrender to Divine Love, it is the true way to Divine Happiness...

DIVINE LOVE IS THE MOST BEAUTIFUL TO KNOW, TO GIVE AND TO LIVE,
THERE IS NO GREATER REALITY THAN DIVINE LOVE.




"We are all part of the One Spirit. When you
experience the true meaning of religion, which is to
know God, you will realize that He is your Self, and
that He exists equally and impartially in all beings."
--Paramahansa Yogananda
---


This page updates when the seed has grown

back to linkpage
suggestion
read and sign my guestbook